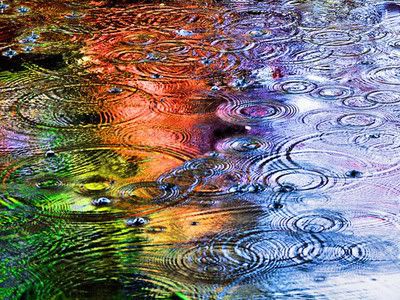 I
t was hard to see the rainbow through the rain these past few months. However, as is the case with life, where there is a down, there inevitably is an up.
I wanted to share that I've accepted a position at the American Psychology Association as Project Manager for the APA
Socioeconomic Status Related Cancer Disparities (SESRCD) Program
.
I've done quite a bit of 'soul searching' as of late and have embraced my heart's passion to be involved in mental health. You guys know how important I think therapy is, and how fundamentally important mental health has been to changing my life completely, and I'd like to translate my experience in the workplace. I feel very strongly about patient advocacy and increasing the "face" of mental health to the public, and this new position should be a beautiful transition into mental health from the work I conducted at NCI.
I'm actually a supervisor in this position and have two employee's who report directly to me, which is both exciting and scary at the same time. The project is 100% on my shoulders to run, which is a lot of responsibility, but I really relish the project and the exciting times ahead. I have a lot of creative control over the direction this project will take, and can't wait to really sink my hands into it.
***
My first year here in DC has been a doozer, huh?
Thanks to the therapy I received in ATL, my confidence was an an all-time high when I moved to this brand-new, high-powered city up north, but as if often the case with life, I hit a bump when I least expected it. I lost, or rather, temporarily misplaced, said newfound confidence when my capabilities were questioned at work, and I struggled hard to hold on to it. Every day, anything I wrote (emails, meeting agenda's) were torn apart with edits, and over time, it got harder and harder to live with. The constant complaints just wore on me, but luckily, at some point, my sense of humor kicked into overdrive, and all of it really fall off my shoulders. I rolled my eyes, made the corrections, and went back to looking for jobs again. I stopped fighting because I knew it wasn't a battle I could ever win.
When I finally left that work environment, I did so with some not-so-great feelings for
S
, but I DID make some wonderful connections. While most people at the workplace had no idea what I was going through, when I shared I was looking for a better placement--7 of my supervisors encouraged me to put them down as references.
Outside of the work stress though, because I was unsure about my chances of securing another job in the current economic climate, part of my anxiety had to do with my fearing I would have to move back home with the parents. While I love them intensely, it's not the most emotionally stable place for me, and part of the loss of confidence I experienced came from this very real fear that I might have to face that emotional challenge.
That said, my parents have been incredibly supportive at this time. It's just living together which would drive me batty.
It is wonderful to start over again in DC. This city tossed me up when I first walked in, but I'm going in for round two.